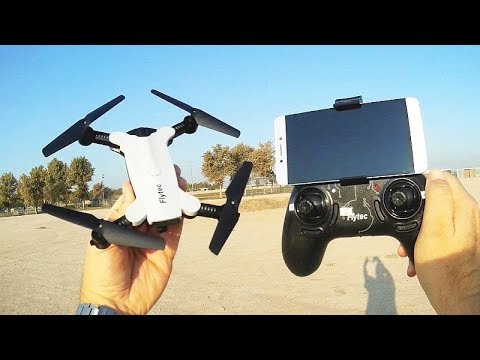 This toy drone includes automatic hover, tracking, gesture, and waypoint capability. Find it here https://goo.gl/4mf84C
Pros
– Optical flow hover tracking that works reasonably well. It may drift a little in wind on takeoff, but it eventually activates for steady hover.
– 720p front camera with swivel lens. Belly optical flow camera can also be used for videos and pictures.
– Includes selfie gesture photo taking capability.
– Also has altitude hold, headless mode, one key return, and waypoint capability.
– Good flight time of close to 10 minutes from its 3.7v 1100mah battery.
– Comes with a dedicated controller for those who prefer joystick control.
– The drone can also be flown using its HFun app available on Google Play here https://goo.gl/y8Lf9e. Advanced flight mode features can be activated, and FPV video can be viewed realtime with this app.
Cons
– Its HFun app needs work. The advanced features of follow me and waypoint do work, but only intermittently and are not very reliable.
– Belly optical flow camera is not very good for photos and videos, and is easily washed out in sunlight.
– Proprietary battery.
Affiliate links: At no cost to you, I do receive a small commission for sales resulting from these links.
This video along with every video of the Quadcopter 101 channel was produced and edited with VSDC Free Video Editor. You may download this excellent, and no kidding "free" video editor here http://www.videosoftdev.com/free-video-editor
MUSIC LICENSE
"Awel" by stefsax
http://ccmixter.org/files/stefsax/7785
is licensed under a Creative Commons license:
http://creativecommons.org/licenses/by/2.5/
music was shortened to fit length of video.