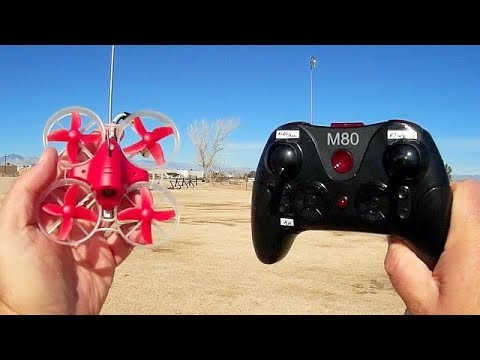 This little RTF Whoop clone is intended to help new fliers learn acro. No Betaflight or computer tuning needed or possible. Find it here https://goo.gl/nUYDvH
Pro's
– Whoop clone designed for new FPV fliers desiring to transition to acro flying.
– Ready to fly with included transmitter. No PID tuning required (or possible), although some might wish it was possible.
– Can right itself if crashed inverted. This depends on the propellers not being obstructed.
– 600TVL 5.8Ghz, 32Channel, 25mW FPV NTSC/PAL camera and transmitter
– 8520 motors
– 4.35V 500mah HV battery
– Three flight modes of angle, acro, and altitude hold.
Cons
– Very tame settings in acro, very slow to respond. As such, mainly meant for beginner acro flyers to practice hovering and slow flight in acro. Can not tune PIDs to make it more zippy as there is no USB input. However, angle mode is much more responsive.
– FPV reception was scratchy on mine, regardless of set frequency. My transmitter may have been defective.
This video along with every video of the Quadcopter 101 channel was produced and edited with VSDC Free Video Editor. You may download this excellent, and no kidding "free" video editor here http://www.videosoftdev.com/free-video-editor
Affiliate links: At no cost to you, I do receive a small commission for sales resulting from these links.
MUSIC LICENSE
"Awel" by stefsax
http://ccmixter.org/files/stefsax/7785
is licensed under a Creative Commons license:
http://creativecommons.org/licenses/by/2.5/
music was shortened to fit length of video.